Urban Tumble With Notes As They Appear On CD – Jowpen Music 2015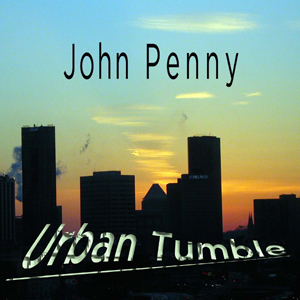 The music for this CD was composed during the 1990s with the exception of Tuate, composed in 1981. The production and mixing was completed in 2014 and 2015. This is the first release of song collections that were composed during the time that I was composing music for films. Future releases will continue to move through a catch up process to include, and be overtaken by my current and future compositions. With the goal of capturing my 1990s musical inspirations as they came to me, I used electronically synthesized instruments within the production framework. My appreciation for the enhancements and production diversity brought by live musicians however, grew during this period. I am honored by the incredible musicians who joined with me over the course of the project. With spontaneity and grace, they painted musical images that amazed me as they danced across my musical canvases. It is my sincere hope that you find this music to be timeless and inspiring. My eternal gratitude goes to my parents for bringing my five siblings and myself into this world with nurturing care and the utmost love. Their unwavering encouragement is reflected in the creation of this music. 
1. Dance The Three (1999) 7:00 Mary Louise Knutson electric piano Enrique Toussaint bass 2. Sidetown Walk (1992) 5:35 Gregg Inhofer electric piano 3. One Way Back (1998) 5:52 Yohannes Tona bass 4. Another Journey (1995) 5:23 Mary Louise Knutson electric piano 5. Equatis (1992) 9:44 Gene Adams Trumpet Bobby Peterson electronic upright piano 6. Urban Tumble (1991) 7:58 Sheila Earley drums 7. Béla (1981) 6:45 John Penny acoustic guitars (1/2 recorded in 1981, 2/2 Recorded in 2015) 8. Dr. Walker (1997) 5:13 Jim Kellerman clay flute, flute, and tenor Sax
All songs composed by John Penny * John Penny electric and acoustic guitars, synthesized instruments and percussion
Listen / Where to Buy Urban Tumble
The Urban Tumble CD ($12) and the imported reissue of the Solstice CD below ($15) can be shipped to you when purchase with PayPal. Add $3 for shipping. Use the contact page to email jp@johnpennymusic.com to purchase a CD.
Below are other CDs that John Penny appears on with sample songs from each. 
1. Expectation (John Penny)
2. Joy In The Night (Jim Gauthier)
3. Ghost Town (Tim Pleasant)
4. Men From Mars (Jim Gauthier)
5. Little Girl (Jim Gauthier music,  Bruce Henry lyrics)
6. Realization (John Penny, music and lyrics)
7. Floating (John Penny, music and Lyrics)
8. Two Roads (John Penny)
Bruce Henry vocals, Tim Pleasant drums, Jay Young bass, Jim Gauthier trumpet and keyboards), David Wright tenor and soprano Saxes, John Penny guitar. Original indie release 1977 •  Re-released 2011 by Riverman Music , cat. #. BTR0084, Seoul, South Korea.
Listen to "Realization" (John Penny)
Penny's Realization is an homage to John Coltrane's potent legacy with strong efforts by [Jim] Gauthier on trumpet and [Dave] Wright on soprano [saxophone]. [Bruce] Henry's vibrant vocal is also impressive as are Penny's poignant lyrics. — Chuck Berg, Downbeat Magazine
1. Stop That (Gene Adams)
2. Shirley(Gene Adams)
3. Two Harbors(Gene Adams)
4.   Gone With the Wind(Gene Adams)
5.   Bosha-Han (Gene Adams)
6.   When I fall Down Upon My Knees (Gene Adams)
7.   Cabin Solace(Gene Adams and John Penny)
8. Awakening(Gene Adams)
9. Grand Portage(Gene Adams)
10. Open Corners (John Penny)
Gene Adams, Trumpet, Andre Broadnax, Sax, Jay Epstein, Drums, Ron Evaniuk, Bass, Blair Lee, Percussion, Jennifer Grimm, Vocals, Carlus Brewer, Vocals, John Penny, Producer – Guitarist
Listen to "Open Corners" (John Penny)
1. Half Nelson (Mike Turk, John Penny, Jon Weber)
2. There Will Never Be Another You (Howard Levy, Jack McDuff, Jon Weber)
3. Lover Man (Eddie Berger, Gene Adams, John Penny)
4. Since I Fell For You (Ginger Commodore)
5. You Better Watch Yourself (Rob Paparozzi, Bernard Purdie, John Penny)
6. Hey (Ronny Loew)
7. Chromabender (Brendan Power)
8. This Masquarade is Over (Howard Levy, Jack McDuff, Jon Weber)
9. Sweet Home Chicago (Alicia Heckler, Eddie Berger, Gene Adams, Bobby Peterson)
10. Lady Be Good (Chris Michalek)
Listen to "Half Nelson" (Miles Davis)