The Urban Tumble CD is Available at iTunes – CD Baby – and More
URBAN TUMBLE CD RELEASE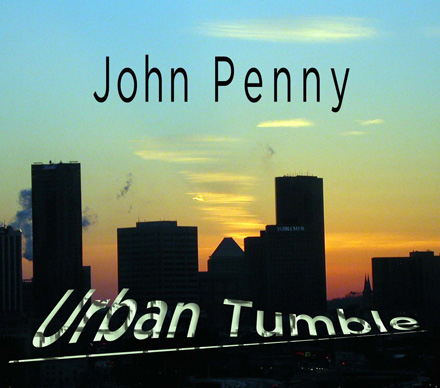 Jazz guitarist John Penny is releasing Urban Tumble, the first CD in a four-part series that makes public some hidden gems from the composer's history. The tracks on Urban Tumble derive from studio sessions between 1991 and 1999, with one from 1981. During the 1990s, while he was scoring music for films or working in information technology, Penny recorded a vast array of music, sometimes as demos, sometimes as fully finished recordings. From these recordings come Urban Tumble and the collections to follow — musical diaries that record the evolution of Penny's musical journey to today.
Read More Below:
MORE ABOUT URBAN TUMBLE
The Urban Tumble CD features performances by great musicians that joined John Penny across this extended production timeline from 1991-1999, with one song reaching back to 1981. The skills of these musicians shine through on every cut where they appear. Penny laid out his song guidelines on a variety of musical canvases, and the musicians in turn graced them with exotic live murals. The result is a group of musical journeys that are as grooving as they are romantic, that get funky, and are spiked with pleasant surprises. By the time Penny produced these songs, he had become aware that the best results for producing Jazz was found in giving talented musicians the freedom to use their instincts.
Urban Tumble is the last project of legacy songs that used a substantial amount of electronic instruments. Penny moved to bringing in live musicians from the start of production with the next generation of shelved songs. A pair of the songs had remixing techniques applied as well. The piece called Béla merges two points in history when its 1981 Spanish guitar duet crossfades over to its 2015 re-rendering with a classical guitar duet. The piece reaches maturity as its closing theme is augmented by a string and woodwind ensemble.
The title song Urban Tumble in its initial version was a five minute small ensemble piece without guitar tracks. The 2015 rebirth of this song opens with an urban soundscape made of elements from the streets of New York City and Minneapolis, MN. Sound clips from one of the song's early mixes spill from passing cars. An energized Jazz Fusion groove emerges from the traffic. Its theme is handed over to a swelling symphony orchestra that further develops it and hands it back. Sound design and remixing aside, the musical conversations throughout the Urban Tumble collection breathe in and out with organic resolve. Throughout the listener experience that the Urban Tumble collection offers, the evocative presence of Penny's electric and acoustic guitars are never lost in the mix.