Urban Tumble CD Release Is On January 17, 5:00PM At Icehouse, 2528 Nicollet Ave So. Minneapolis, MN 55404
URBAN TUMBLE CD INFORMATION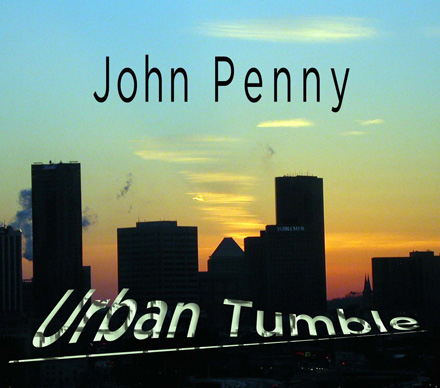 John Penny's Urban Tumble CD is the first of what looks to be a four part series aiming to deliver missing links to the world of Jazz, and Jazz fused with other musics. It ishttp://www.johnpennymusic.com/wp-admin/post.php?post=7&action=edit# a collection of works created in times when Penny was involved with other professions in parallel with performing and composing Jazz. One of the other professions was scoring music for films. As the inspirations for his Jazz songs surfaced, he documented them in forms that ranged from demos to finished mixes, and then he shelved them. The Urban Tumble collection of songs and those in the collections to follow, were selected and grouped by their Jazz flavor, by the most relevant from each period, and for the most timeless. They are the musical diaries of John Penny that map an evolutionary path to his works of today. Read More Below:
MORE ON THE URBAN TUMBLE RELEASE
The Urban Tumble CD features performances by great musicians that joined John Penny across this extended production timeline from 1991-1999, with one reaching back to 1981. The skills of these musicians shine through on every cut where they appear. John Penny laid out his song guidelines on a variety of musical canvases, and the musicians in turn graced them with live exotic murals. The result is a group of musical journeys that are as grooving as they are romantic, that get funky, and are spiked with pleasant surprises. By the time of Urban Tumble, Penny had learned that the best practice in producing Jazz was finding people with the right instincts, and giving them all necessary freedom to use them. Urban Tumble is the last of the early projects that employed a substantial degree of electronic sounds. Penny moved to bringing more live musicians into the initial sketches for the next generation of shelved songs. Also unique to some of the the Urban Tumble collection is the merging of musical elements from the present with the legacy content of the songs. This process could be called time-lapse producing, however unplanned. The piece called Béla starts out with the originally short 1981 spanish guitar duet, whose solo section transforms into the improvising classical guitar duet of 2015 with a closing theme that is infused with a string and woodwind ensemble. The title song Urban Tumble in its initial version was a small ensemble piece of approximately 5 minutes without guitar tracks.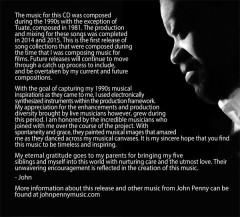 The 2015 rebirth of this song opens with an urban soundscape made of elements from the streets of New York City and Minneapolis, MN with sound clips from the song's original mix emanating from the passing cars. A high energy Jazz Fusion rhythm section gradually builds a theme that is overtaken by a symphony orchestra swelling it's way into the song, then gradually handing it back to he Fusion group. Various musical conversations transpire as the song arrangements of Penny's Urban Tumble breathe in and out, but the evocative presence of his electric and acoustic guitars does not get missed in the mix.